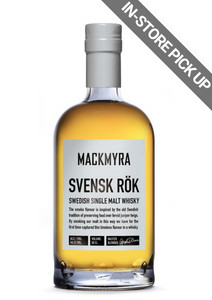 MACKMYRA
Mackmyra | Svensk Rök | Whisky | 46,1% 50cl
Regular price
$995.00
$0.00
Mackmyra's history started in 1998 at a Swedish winter resort, where eight friends from the Royal Institute of Technology met up for a ski trip. Noticing all of them had brought along a bottle of malt whisky for the host, a conversation started about the manufacturing of a Swedish whisky. The following year a company was founded and the journey of Sweden's first Single Malt whisky began.
A large part of our whiskey is stored in new Swedish oak. The Swedish oak grows slowly in our harsh climate and gives the whisky a harsher flavor than American oak. The whisky gets a fiery spice balanced by sweetness similar to caramelized sugar.
At northerly latitude the conditions for making and maturing world class whisky are perfect. Drying and smokin food over juniper twigs is an old Swedish tradition which Mackmyra combines with the taste of whisky. This is their smoky, peaty expression, hence the name Svensk Rök, which means Swedish Smoke. 
This traditional blend of peat and juniper smoke pass up through a grain bed and imbues the barley with its flavour. Svensk rök has smoky character with notes of peat and juniper. Dry, smoky aromas with light tobacco leaves and herbs balanced with a slight mineral saltiness, anise and green fruit. Forming together a unique Swedish smoky expression, hence the name Svensk Rök, which means Swedish Smoke.
Svensk Rök is made from only natural Swedish ingredients, is not chill filtered and does not have any artificial coloring.
With completing the purchase you confirm that you're 18+ years old. Please bring an official ID as proof with you when picking up the Gin in store.
---
Share this Product